About Us
Golden Dragon is a Chinese takeaway in PETERBOROUGH. Why don't you try our Kung Po Crispy Pork or House Special in Green Pepper & Black Bean Sauce?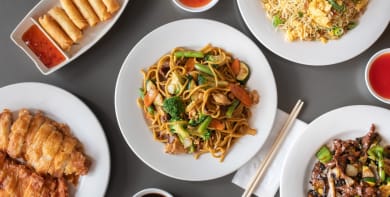 Reviews
404 reviews
Matthew
"A tasty and smooth experience with delivery. + Free spring rolls! Black bean sauce not too much to my taste but still good quality and plenty of beef."
08/05/2022
Martina
"Fantastic service. Delicious food, hot and big portion."
07/05/2022
Dan
"Best Chinese in Peterborough!"
06/05/2022
Lukas
"no doubt will order again thanks"
01/05/2022
Menu
Coca-Cola Original Taste 330ml Can
£1.00
Stuffed Crab Claws (3)
Served with sweet & sour sauce & lemon slice
£4.20
Chicken Strip with Salt & Pepper
£6.50
Crispy Aromatic Duck Quarter
Served with steamed pancake, cucumber, spring onion slices & a piquant hoisin sauce
Quarter (10 pancakes)
Half (20 pancakes)
£9.70
Crispy Aromatic Duck Half
Served with steamed pancake, cucumber, spring onion slices & a piquant hoisin sauce
Quarter (10 pancakes)
Half (20 pancakes)
£17.50
Fried Crispy Squid in Salt & Chilli Pepper
£6.00
Salt & Pepper Chicken Wings
Dry
£5.50
Satay Chicken on Skewer (4)
£6.50
Chicken Wings in Peking Sauce
£5.50
Sesame Prawn on Toast (6)
Served with sweet & sour sauce
£5.50
Hors D'oeuvres
Spare ribs, seaweed, sesame prawn toast, spring roll, crispy wonton & satay chicken on skewer with sweet & sour sauce
£11.20
Mini Spring Roll (8)
Served with sweet & sour sauce
£3.70
Barbecue Spare Ribs in Satay Sauce
£7.00
BBQ Spare Ribs in Sweet & Sour Sauce
Cantonese style
£7.00
Barbecue Spare Ribs with Lemon
Dry
£7.00
Golden Dragon Own Barbecue Spare Ribs
£7.00
Golden Dragon Own Salt & Pepper Spare Ribs
Dry
Spice with rock salt, garlic & chilli
£7.00
Barbecue Spare Ribs in Syrup
£7.00
Barbecue Spare Ribs in Peking Sauce
£7.00
Wonton Soup
Chinese pork & prawn ravioli in savoury clear noodle soup
£3.60
Chicken & Mushroom Soup
Clear savoury soup with sliced chicken & mushrooms
£3.20
Fried Chicken in Honey Sauce
£6.80
Kung Po Crispy King Prawns
Crispy coated king prawns cooked with peanuts in hoisin sauce, slightly spicy
£6.80
Fried Chicken in Lemon Sauce
£6.80
Crispy Shredded Beef in Chilli
Shredded beef cooked in a spicy sweet chilli sauce
£7.00
Kung Po Crispy Pork
Crispy coated pork meat parcels with peanuts in hoisin sauce. Slightly spicy
£6.60
Salt & Pepper King Prawns
Dry
£6.80
Fried Chicken in Plum Sauce
£6.80
Crispy Shredded Chicken in Chilli
£6.50
Four Seasons
Roast duck, king prawns, chicken, roast pork & mixed vegetables in oyster sauce
£6.80
Crispy King Prawn
With butter & chilli garlic sauce
£6.80
Crispy King Prawns in Plum Sauce
£6.80
Kung Po Crispy Chicken
Crispy coated chicken meat parcels with peanuts in hoisin sauce. Slightly spicy
£6.60
Golden Dragon Roast
Spare ribs, roast duck, roast pork, topped with BBQ sauce
£7.00
Crispy Chicken with Butter & Chilli Garlic Sauce
£6.80
House Special in Satay Sauce
£6.60
House Special with Broccoli
£6.60
House Special in Szechuan Spicy Sauce
£6.60
House Special with Ginger & Spring Onion
£6.60
House Special with Mushrooms
£6.60
House Special in Green Pepper & Black Bean Sauce
£6.60
House Special in Sea Spice Sauce
£6.60
House Special Chop Suey
Mixed meat cooked with mixed vegetables
£6.60
Sweet & Sour King Prawns in Cantonese Style
Crispy coated prawns with pineapple, carrots, onions & green pepper cooked
£6.00
Chicken Balls with Sweet & Sour Sauce Dip
£6.50
King Prawn Balls with Sweet & Sour Sauce Dip
£6.50
Sweet & Sour Pork in Cantonese Style
Cooked with pineapple, carrots, onions & green pepper
£6.00
Sweet & Sour Chicken in Cantonese Style
Crispy coated chicken meat parcels cooked with pineapple, carrots, onions & green pepper
£6.00
Mixed Chicken & King Prawn Balls
£6.50
Singapore King Prawn Curry
£6.50
Chicken & King Prawn Curry
£6.30
Chicken Chop Suey
Cooked with mixed vegetables
£6.10
Chicken with Bamboo Shoots & Water Chestnuts
£6.10
Roast Chicken in Chinese Style
Sliced roast chicken on a pan-fried bean sprouts bed with BBQ sauce on top
£6.10
Chicken with Ginger & Spring Onion
£6.10
Chicken in Szechuan Spicy Sauce
£6.10
Fried Chicken in Salt & Pepper
£6.10
Chicken in Green Pepper & Black Bean Sauce
£6.10
Beef in Black Pepper Sauce
£6.20
Beef with Ginger & Spring Onion
£6.20
Pan-Fried Beef with Onions
£6.20
Beef in Green Pepper & Black Bean Sauce
£6.20
Beef with Bamboo Shoots & Water Chestnuts
£6.20
Beef in Szechuan Spicy Sauce
£6.20
Beef Chop Suey
Cooked with mixed vegetables
£6.20
King Prawn with Mushrooms
£6.80
King Prawn with Fresh Tomatoes
£6.80
King Prawn in Green Pepper & Black Bean Sauce
£6.80
King Prawn in Peking Sauce
£6.80
King Prawn in Sea Spice Sauce
£6.80
King Prawn in Satay Sauce
£6.80
King Prawn in Szechuan Spicy Sauce
£6.80
King Prawn in Black Pepper Sauce
£6.80
King Prawn with Pineapple
£6.80
King Prawn with Bamboo Shoots & Water Chestnuts
£6.80
King Prawn with Cashew Nuts
£6.80
King Prawn with Ginger & Spring Onion
£6.80
King Prawn Chop Suey
Cooked with mixed vegetables
£6.80
Crispy Fish with Ginger & Spring Onion
£6.20
Crispy Fish in Satay Sauce
£6.20
Sweet & Sour Crispy Fish Cantonese Style
£6.20
Crispy Fish in Black Pepper Sauce
£6.20
Crispy Fish in Szechuan Spicy Sauce
£6.20
Crispy Fish with Black Bean Sauce
£6.20
Roast Pork in Honey Sauce
£6.30
Roast Pork Chop Suey
Cooked with mixed vegetables
£6.30
Roast Pork with Bamboo Shoots & Water Chestnuts
£6.30
Roast Pork in Green Pepper & Black Bean Sauce
£6.30
Roast Pork with Ginger & Spring Onion
£6.30
Roast Pork with Mushrooms
£6.30
Roast Pork in Szechuan Spicy Sauce
£6.30
Roast Pork in Chinese Style
Sliced roast pork on a pan-fried bean sprouts bed with BBQ sauce on top
£6.30
Roast Pork in Black Pepper Sauce
£6.30
Roast Duck in Satay Sauce
£6.90
Kung Po Roast Duck
Sliced roast duck cooked with peanuts in hoisin sauce, spicy
£6.90
Roast Duck in Chinese Style
Sliced roast duck on a pan-fried bean sprouts bed with BBQ sauce on top
£6.90
Roast Duck with Fresh Tomatoes
£6.90
Roast Duck in Orange Sauce
£6.90
Roast Duck with Honey Sauce
£6.90
Roast Duck with Mushrooms
£6.90
Roast Duck in Lemon Sauce
£6.90
Roast Duck in Green Pepper & Black Bean Sauce
£6.90
Roast Duck with Ginger & Spring Onion
£6.90
Roast Duck with Cashew Nuts
£6.90
Roast Duck with Bamboo Shoots & Water Chestnuts
£6.90
Roast Duck with Plum Sauce
£6.90
Roast Duck in Szechuan Spicy Sauce
£6.90
Roast Duck in Black Pepper Sauce
£6.90
Lamb with Ginger & Spring Onions
£6.60
Lamb with Green Pepper & Black Bean Sauce
£6.60
House Special Chow Mein
Sliced roast chicken, roast pork with BBQ sauce on top
£6.60
House Special Fried Rice
Sliced roast chicken, roast pork with BBQ sauce on top
£6.50
Pineapple & Cashew Nuts Fried Rice
£5.50
Singapore Fried Rice
Spicy
£6.20
Yeung Chow Fried Rice
Dry
£6.00
Roast Duck & Roast Pork Fried Rice
£6.50
Tofu in Sweet & Sour Sauce
Bean curd
Large
£5.00
Mixed Vegetable with Cashew Nuts
£4.90
Tofu in Sea Spice Sauce
Bean curd
Large
£5.00
Mixed Vegetable in Szechuan Spicy Sauce
£4.90
Tofu in Black Bean Sauce
Bean curd
Large
£5.00
Stir-Fried Chinese Leaf in Oyster Sauce
£4.90
Stir-Fried Broccoli in Oyster Sauce
£4.90
Mixed Vegetable in Black Bean Sauce
£4.90
Sweet & Sour Mixed Vegetable
£4.90
Kung Po Mixed Vegetable
Hoisin sauce
£5.00
Tofu in Szechuan Spicy Sauce
Bean curd
Large
£5.00
King Prawn Omelette & Chips
£6.50
Roast Pork Omelette & Chips
£6.00
Plain Egg Omelette & Chips
£5.50
Roast Chicken Breast & Chips
Served with mushrooms & gravy sauce
£6.50
Chicken Balls (3), Fried Rice, Chips & Sauce
£5.40
Spare Ribs & Chicken Wings in BBQ Sauce & Chips
£6.90
Cantonese Style Sweet & Sour Chicken
With egg fried rice
£6.90
Spare Ribs in BBQ Sauce & Chips
£5.40
Sliced Roast Chicken & Chips with Sauce
£5.90
Fried Rice, Chips & Sauce
£4.20
Sliced Roast Pork & Chips with Sauce
£5.90
Stir-Fried Mixed Vegetables
£3.20
Stir-Fried Mushrooms with Onions
£3.20
Stir-Fried Bamboo Shoots & Water Chestnuts
£2.60
Set Meal D For Four Persons
Chicken satay (skewers)
Crispy aromatic duck
Mini spring roll
King prawn in black bean sauce
Sweet & sour chicken Cantonese style
Beef with mushrooms
Yeung chow fried rice
£46.50
Set Meal A1 For One Person
Mini spring roll (4)
Chicken with mushrooms
Sweet & sour chicken balls (4)
Yeung chow fried rice
£13.00
Set Meal B1 For Two Persons
Barbecued spare ribs (4)
Chicken with cashew nuts
Sweet & sour pork Cantonese style
Beef in black bean sauce
Yeung chow fried rice (2)
Prawn crackers
£23.50
Set Meal A2 For One Person
Mini pancake rolls (2)
Sweet & sour chicken Cantonese style
Beef in black bean sauce
Yeung chow fried rice
£14.50
Set Meal C1 For Three Persons
Sesame prawn toast (6)
Quarter crispy duck
Sweet & sour chicken Cantonese style
Chicken with cashew nuts
Beef with mushrooms
Yeung chow fried rice (3)
Prawn crackers
£39.50
Contact Us
Find Us
1223-1225 Bourges Boulevard Cambridgeshire, PETERBOROUGH, PE12AU
We deliver to
PE1, PE3, PE4